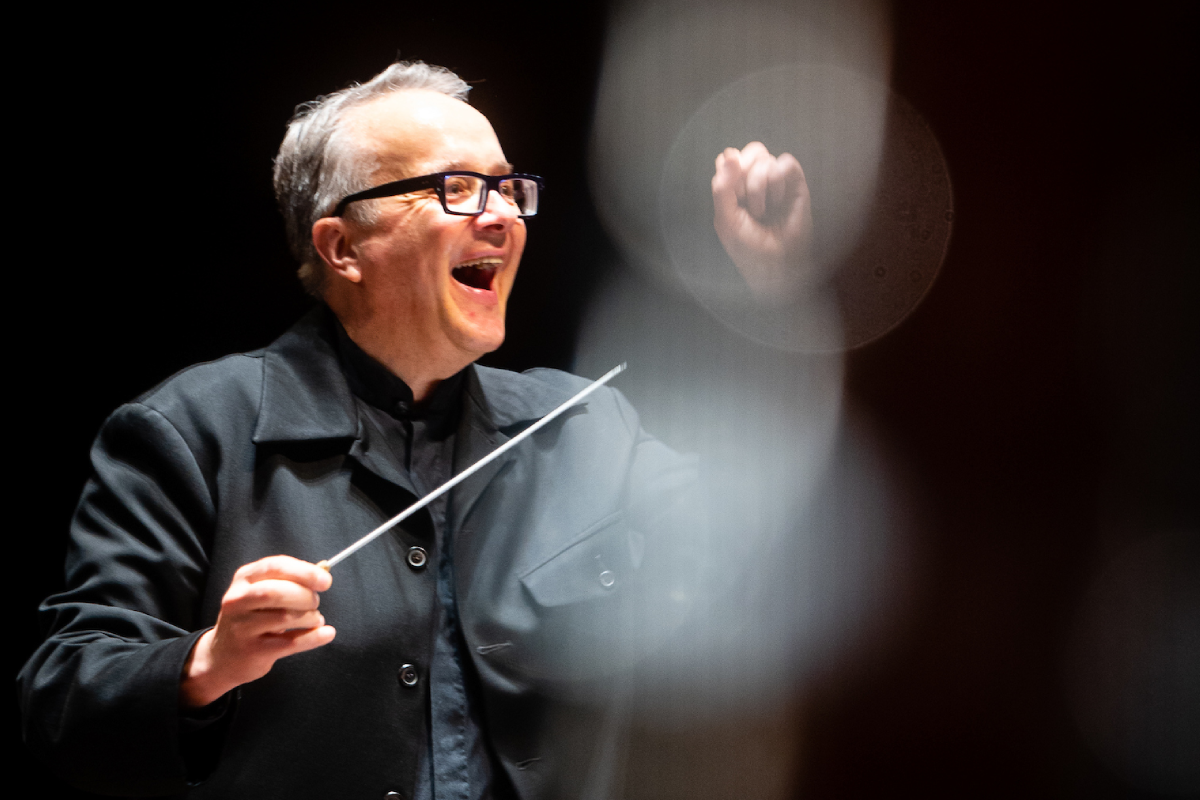 From Marc Taddei - Music Director
In The Story, your orchestra will share a glimpse of the journey of orchestral music from the Baroque era to the music of today. It is the richest possible theme for a season, but as you would expect, we are going to have a bit of fun with it!
I struggle to think of one great composer who was not aware of The Story of music and their place in that story. Many have looked back to the examples of past composers to find inspiration, structure, and meaning for their own music.
The Story has a strong narrative thread, and while we can only provide a glimpse of the story that has defined this art for over 1000 years, in 2024 we focus on masterpieces that look back to previous eras for inspiration.
Each season, Orchestra Wellington follows aspects of Western Art music's development. In 2023 we linked CPE Bach's sensitive style through to the Expressionists of early Modernism. For The Story, we'll further nuance, bringing in the French Impressionists, NeoClassicists, Jazz Cats and more!
I like stories that begin with a Grand Gesture and the music and art of the Baroque era revelled in those.
Both Handel and JS Bach looked back to find inspiration. Handel modelled his concerti grossi on those of the much earlier composer, Arcangelo Corelli, but made them grander in conception. Also inspired by earlier models, JS Bach's sublime Double Violin Concerto refers to Corelli too but owes more to his slightly older Italian contemporary Antonio Vivaldi. Our soloists for these are Amalia Hall and the NZSQ's Monique Lapins. Handel and Bach themselves inspired later composers. The brilliant Postmodern composer Lukas Foss deconstructed the famous theme from Handel's Concerto Grossi to fascinating effect in his hallucinatory Baroque Variations.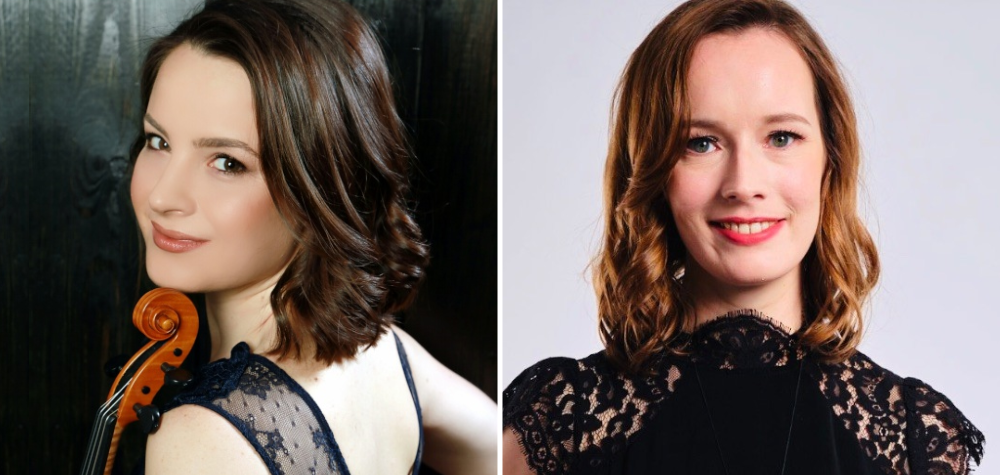 Concertmaster, Amalia Hall, (left) and Monique Lapins (right)
Baroque Variations is a riot of styles, appropriating the music of Bach, Handel and Scarlatti, but using an enormous orchestra that includes electric guitars, electric organs, breaking glass, and Morse code! Appropriately enough, Foss titles the final moment, based on Bach's E-minor partita, "Phorion", a Greek word meaning stolen goods! This will be the NZ premiere of this hilarious acid-trip of a work!
After the major ructions of early Modernism, most notably by Stravinsky's Rite of Spring, these same composers began to reassess, and look to the past for style and form — away from their often brutal and expressionist stylings.
The result was Neoclassicism, and Stravinsky was its champion. Like Bach and Handel, Stravinsky looked to his Italian antecedents to create the quintessential Neoclassical work — Pulcinella. As a special treat we will feature one of New Zealand's finest original instrumental groups The Queen's Closet, to put Pulcinella into perspective. They'll perform original works by Giovanni Pergolesi that Stravinsky appropriated for this jovial work.
Stravinsky also features in The Fairy's Kiss, his unabashed love letter to Tchaikovsky and Romanticism. Stravinsky crafted a work of exquisite beauty based on the great Russian master's songs and piano music. Stravinsky's mother pointed out Tchaikovsky at a concert from a distance to him when he was 11. This became a cherished memory for the rest of his life, and his sorrow that the great master was taken away at the peak of his powers speak best to the genesis of The Fairy's Kiss.
Stravinsky's compatriot Sergei Prokofiev provides another seminal Neoclassical masterpiece — his Classical Symphony. This sparkling work certainly marked a departure from the expressionist stylings of the Scythian Suite which we played last season!
Prokofiev said, "It seemed to me that if Haydn had lived into this era, he would have kept his own style while absorbing things from what was new in music. That's the kind of symphony I wanted to write: a symphony in The Classical Style."
Les Six had one female member, Germaine Tailleferre. Her 1925 Neoclassical piano concerto brilliantly introduces her gifts as a composer. Her music is typically Gallic, in that its lightness, directness of expression, and sheer joy is a hallmark. But despite the acceptance of her peers, her gender has hampered her reputation. Critics of the day discussed Tailleferre's works using gender-coded traits, such as "sensitive," "seductive," and "pretty". When asked about the femininity they insisted on finding, Tailleferre responded, "The essential thing is that it be music. I don't see any reason why I shouldn't write what I feel."
I am delighted to introduce Somi Kim as soloist. Somi is the pianist in our concertmaster Amalia Hall's NZTRIO. Speaking of our stunningly gifted concertmaster, Amalia will be performing Korngold's luscious Violin Concerto. Placed in a concert dedicated to the inspiration of The Romantic Generation, this work will add some "Hollywood Glamour" to works that pay tribute to the greatest Russian composer, and the father of German Romantic opera.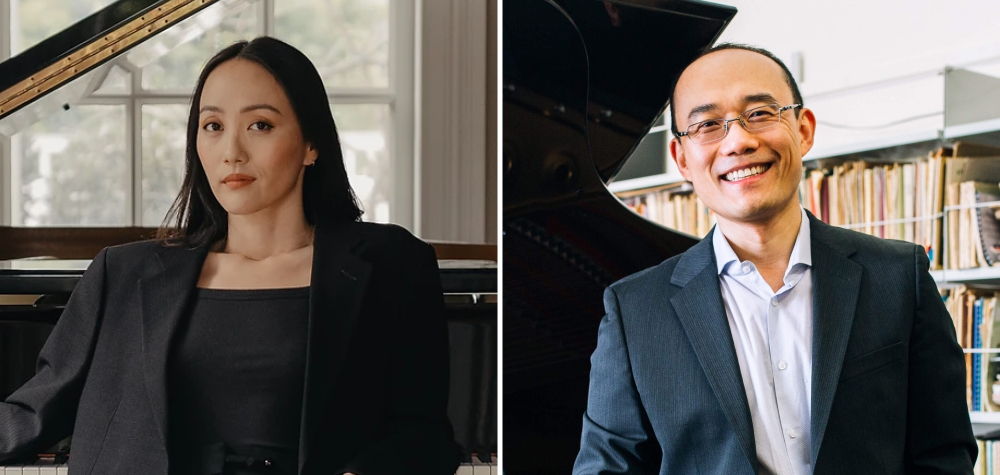 Pianists Somi Kim, (left) and Jian Liu (right)
Erich Wolfgang Korngold was one of the 20th century's most interesting child prodigies, hailed as a genius by both Mahler and Strauss. In the 1930s he began composing film scores, and in 1938 an invitation to score the Errol Flynn swashbuckler, The Adventures of Robin Hood, saved Korngold's life as he left Austria to fulfil that commission shortly before the Anschluss.
Korngold called his scores "operas without singing", and the Violin Concerto, a work that is a compendium of many of his Hollywood film score themes, revels in his late romantic, richly textured style with its sly ability to use modernist conventions to sophisticated effect.
The Neoclassicist Paul Hindemith came to prominence during the Weimar Republic. His Symphonic Metamorphosis on themes of Carl Maria von Weber is deservedly his most popular work. Like Korngold, Hindemith immigrated to America, escaping Nazi persecution (the Nazis had labelled Hindemith, along with Stravinsky as a "degenerate" composer).
Weber was an important figure in the development of German opera and a seminal influence on Romanticism. Hindemith used themes found in collections of Hindemith's piano music, and as Stravinsky did in The Fairy's Kiss, he managed to honour the source material while retaining his unique modern stylings.
I am delighted to present the NZ premiere of Florent Schmitt's The Tragedy of Salome! This work directly inspired Stravinsky's The Rite of Spring, and is the climax of The Secret Society programme.
That Secret Society was Les Apaches, named after a newspaper article that mocked the group with this French colloquial term for Parisian street gangs after they were seen attending a performance of Debussy's Pelléas and Mélisande. Les Apaches was centred around Maurice Ravel, the pianist Ricardo Viñes, Stravinsky, and Schmitt.
Embracing several artistic disciplines, Les Apaches immersed themselves in Symbolism, Javanese music, Russian composers, Edgar Allan Poe, Stéphane Mallarmé and Paul Cézanne. They held Debussy as their artistic mentor. Schmitt's music shows Debussy's influence, but is characterised by more robust, full-bodied textures and gestures, charting a course along the lines followed by another of this season's composers, Lili Boulanger. As he composed his Rite of Spring, Stravinsky stated that Schmitt's Salome, "has given me greater joy than any work I have heard in a long time." The Tudor Consort will join us to present Schmitt's sultry, dynamic masterpiece.
As a leader of Les Apaches, Maurice Ravel is represented by one of his most profoundly moving compositions, the Piano Concerto for the Left Hand. We're honoured to share the stage with the marvellous Jian Liu for our performance. The work was commissioned by the one-armed pianist Paul Wittgenstein in 1931. While learning it, he complained to Ravel, "What's with the jazz-infused rhythms and harmonies? This is classical music."
It was The Jazz Age! Composers such as Stravinsky, but also Ravel and Les Six, appropriated Jazz conventions. In The Story, we present a composer who rose directly from his American roots — George Gershwin.
The child of Russian Jews in Brooklyn, Gershwin dropped out of school at 14 to help support his family, playing the piano as a "songplugger" for music publishers. Tin Pan Alley's vibrant (largely Jewish) musical culture, modern technology, and most importantly radio and recorded sound created an environment that nurtured Gershwin's genius. Gershwin's Porgy and Bess of 1935 is one of the 20th century's great operas. We will present a semi-staged production of the version made famous by Ella Fitzgerald and Louis Armstrong. There's a Kiwi connection: legendary Hollywood film composer Russel Garcia, who arranged the opera for them, sailed from Los Angeles with his wife Gina in the 1970s, and upon finding himself in New Zealand, settled in the Bay of Islands.
I am humbled and moved that Gina will attend this performance. Deborah Wai Kapohe and brothers Eddie and Siliga Sani Muliaumaseali'i will lead a stellar cast, including the Signature Choir and their Pasifika style.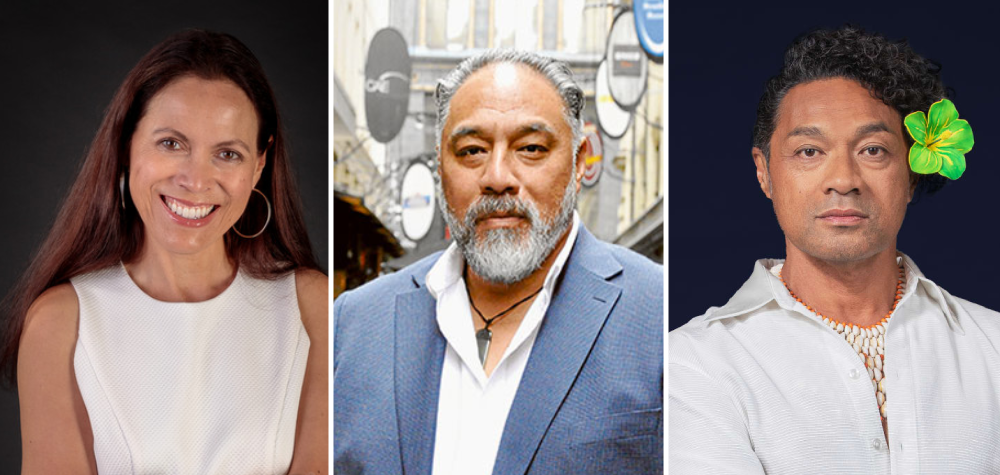 Deborah Wai Kapohe (left), Eddie Muliaumaseali'i (centre) and Siliga Sani Muliaumaseali'i (right)
No OW season would be complete without inviting our closest musical friends, the Orpheus Choir! In A Modern Hero, we finish our season together with Benjamin Britten's magnificent War Requiem. First performed in 1962, it was commissioned to mark the consecration of Coventry Cathedral, rebuilt following a WWII bombing raid. The music sets the traditional Latin text of the Requiem Mass alongside war poetry by Wilfred Owen. It is a statement of the deepest emotional and moral depth, and a monument of Western culture. The War Requiem was an immediate sensation, speaking directly to the public on the deepest levels.
Also featuring the Orpheus Choir, and balancing our Neoclassical focus, we present one of the most consequential works of Western culture, Beethoven's Symphony No 9! A world class quartet of Kiwi soloists will join us for this performance!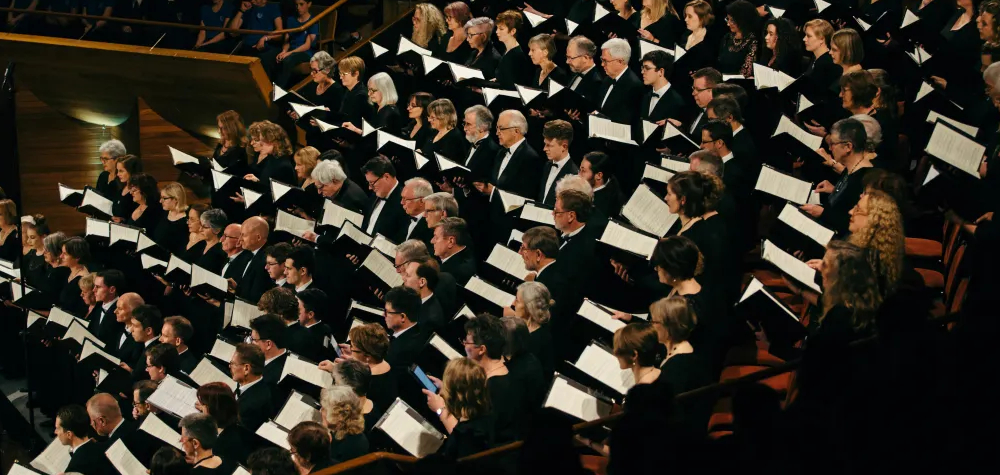 The Orpheus Choir Wellington will perform in Britten's War Requiem and Beethoven's 9th Symphony.
We've included a work that many point to as the true birth of Modernism — Debussy's Prelude to the Afternoon of a Faun! Composed between 1892 and 1894, it is a masterpiece so personal, so free of derivation, so distinctive in feeling and colouring, that it is unlike any music of the past or even of its own era. As Debussy described it, "There is no theory. You merely have to listen. Pleasure is the law."
Our examination of Les Apaches extends beyond them to include a brilliant Impressionist composer whose early death and gender hindered her career. Thankfully her gifts were such that today Lilli Boulanger is recognised as a singular voice in music. Debussy noted that her music "undulates with grace." D'un Soir Triste is a study in elegance and perfect form. One of the last works written in Lili's own hand, this short, powerful piece displays the conflict of a terminal Lili Boulanger confronting her own mortality.
In a season that features two extraordinary women composers of the modern era, I am delighted to announce a brilliant post-modern artist, our newest composer in residence, Eve de Castro-Robinson! Eve is one of New Zealand's senior composers, and her music draws deeply from our shared contemporary experience!
While our core relationship with you centres on our performances in the acoustically stunning Michael Fowler Centre, that's only part of our mission. Our community outreach includes Music to Schools, our annual Big Bash involving dozens of community music organisations, our family concerts, and our support of Arohanui Strings — an "El Sistema" programme dedicated to social change through the power of the shared experience of music education and performance.
So there you have it! We present The Story of Music, seen through a very particular lens that allows us to present you, NZ's largest audience, with an exciting and thought-provoking season that presents 286 years of genius from 1738 up to 2024!
Your unrivalled support is a constant inspiration to all of us at OW. The culture of an orchestra (and I absolutely include you, our beloved audience in this) rests on the quality and integrity of its programming. OW's programming choices are unique in New Zealand. Sophisticated audiences deserve sophisticated programmes!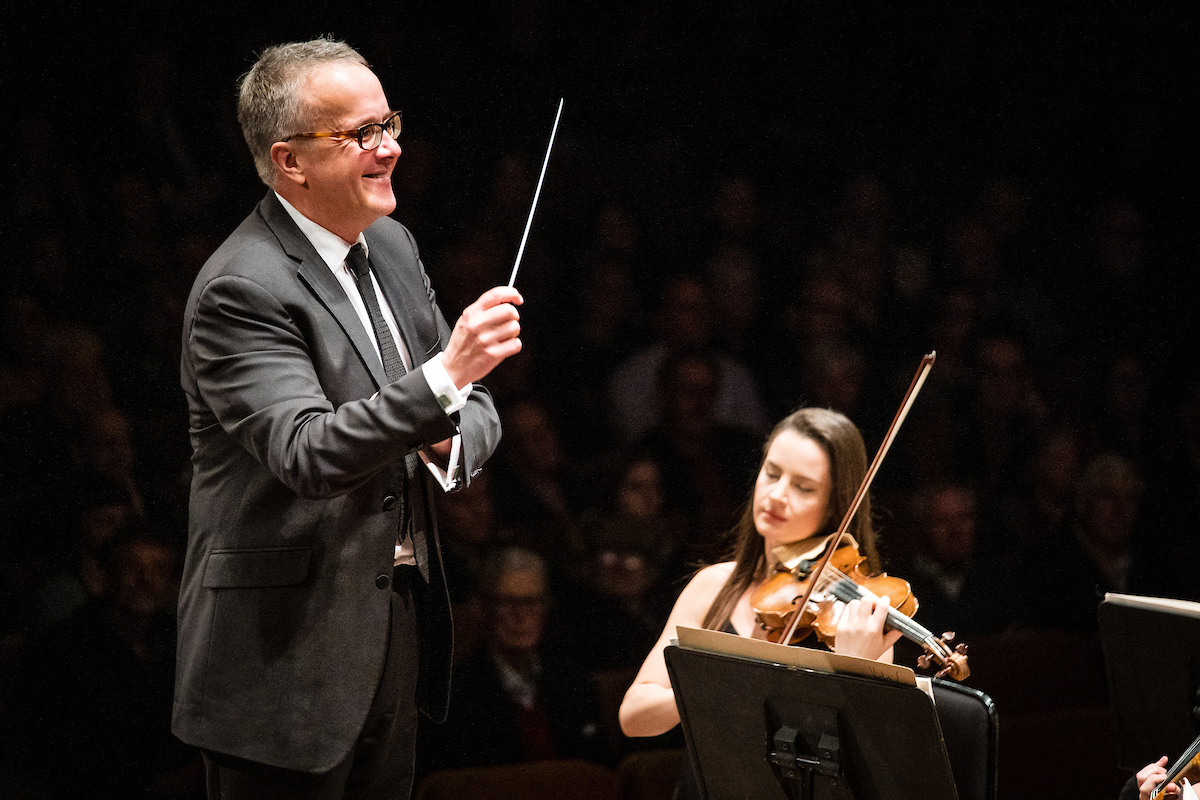 Maestro in motion at the Michael Fowler Centre, 2023.
The power of live performance exists in the relationship between the composer, the performers, and you, the interpreter of what you hear. It explains why the meaning of music is found in the moment, never to be repeated.
I invite you to join your orchestra in the spirit of the joy found in music, as we perform The Story!